Data-Driven Content: 4 Keys to Remember When Creating Online Content
Why should anyone read what you write instead of choosing any of the multitude of content offerings posted by the numerous other authors online today?
Web users are looking for interesting, valuable content that is relevant and actionable. To give them what they want, your content needs to be data-driven.
Keep reading or use these links to "jump" ahead:
What is Data-Driven Content?
Data and content may not seem compatible. One contains statistics. The other tells a story.
Data drives good content. Data-driven content contains blog posts, email messaging, social media posts, and video that is based on data collected from a targeted audience. This group of prospective customers is composed of those most likely to take a desired action such as subscribe to your email list, clicking through to your website or purchasing a product they have in their "shopping cart" on your website.
The audience data collected will give insight into the content your target consumers find most valuable. Google Analytics, SEMRush, Marketo, and Facebook Insights are common audience data-collection tools.
Once you know the type of content your ideal audience is looking for, you can then provide them with the information they most want to see.
It is okay if you don't have a large customer database from which to extract data. You will simply need to find other sources. Other tools that effectively capture audience data include the following:
Customer surveys and interviews conducted via email, social media chat, phone, and in-person
Customer feedback and suggestions regarding your products and service
Customer experience follow-up
Polls on social media
Case studies of past client projects
Data-driven content is written with specific viewers in mind. It isn't written for a broad, general audience.
Content backed by audience data builds trust between the brand and the reader. It also boosts a company's online credibility. When readers feel they can turn to a company for reliable information, they are more likely to successfully complete a sale.
1. Buyer Personas
Before you can offer valuable content to your target audience, you need to know who they are. Buyer personas are great tools to understand your audience. Buyer personas are fictional people that are composed of the characteristics of your audience data.
When creating a buyer persona, consider including the following customer data:
Demographics (i.e. age, sex, education, marital status, location, income, interests, hobbies, career, etc.)
The stage of your target buyer's journey or which sales funnel they belong to
The customer's web habits (i.e. favorite blogs, the social media platforms and forums on which they are most engaged, their web search history, and the times and days they are most active online)
Customer pain-points and challenges
Customer perception, opinions, and suggestions for your brand, products, or services
Buyer's personas provide a visual representation of your ideal customer. Many companies have multiple buyer personas for different content strategies and campaigns.You can use the audience data collected from some of the alternative data sources listed in the previous section to create a comprehensive buyer persona.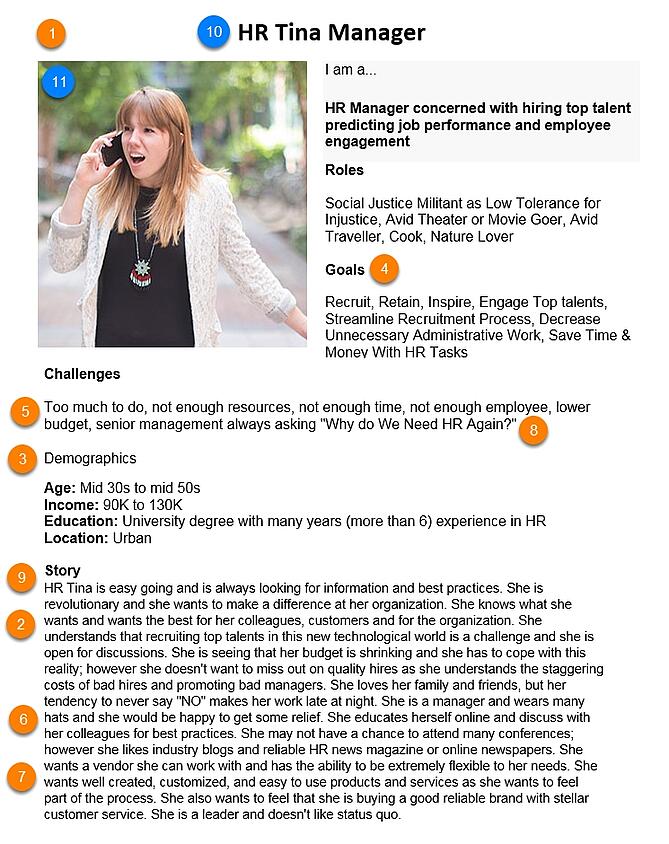 Knowing who your ideal customer is allows you to understand their interests, challenges, questions, and buying-readiness. The content you produce will address these areas and be applicable, important, and persuasive to your target audience.
2. Calculate Return on Investment (ROI) for Content
The purpose of your content is to compel the reader to click on your website and buy your product or service. Additionally, your content will facilitate a positive, long-term relationship with your customers so they are more likely to make future purchases.
Data-driven content has a higher conversion rate as it's tailored to specific audiences.
Calculating the ROI on your content tells you which pieces are performing well and which aren't.
Well-performing content can save you time and energy through reuse. If the content isn't performing well, improvements are necessary.
To help you determine whether the ROI of a piece of content is on the mark, measure it against the key performance indicators (KPIs) you created.
Some of the more common online content KPIs worth noting include:
The amount of blog post comments
The number of social media shares
Click through rates on the contact page, funnel page, and social media posts
Email open rates
The amount of email addresses collected
A few of the best online KPI tools include Salesforce, Simple KPI, Asana, HubSpot, and Moz. Some marketers still use the traditional spreadsheet method.
Measuring online content is easier than ever. The impact of data-driven content is realized when its ROI is measured.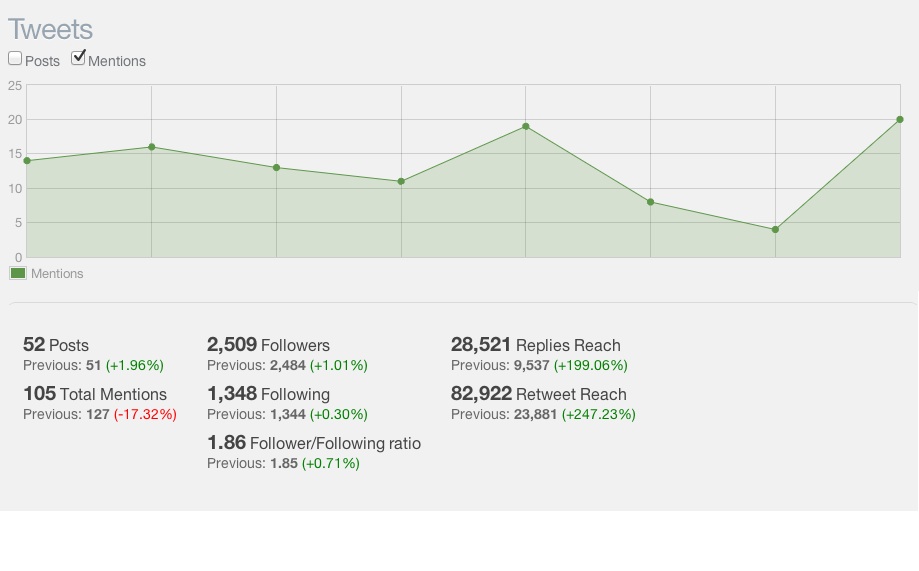 3. Planning and Documentation are Key for Strategic Content Marketing
Data-driven content needs planning and documentation.Your business needs to be strategic with its content marketing. Your writing will be more powerful when you plan the content out and involve the whole company in your marketing strategy.
CONTENT PLANNING
When gathering audience data for your content, look at the online consumption habits of your audience.
Observe things like the placement, frequency, timing, and medium popular with your audience.Use this information to plan out your content.
An editorial calendar is a great way to plan the dissemination of your content on the social networks most visited by your audience.
When you introduce your business and continue to engage prospective customers on the sites they already frequent, you'll boost brand authority and visibility, building trust with your online audience.
Your editorial calendar should include:
A timeframe (a week, two weeks, a month, three months, etc.)
Specific content distribution channels (i.e. email, Facebook, Twitter, Instagram)
Days, times, and the frequency of your publishing on social media channels
Variation in types of published content
There are numerous online content scheduling tools available including: Buffer, Twitscoop, Hootsuite, Sprout Social, and Tailwind. At Jawfish Digital, we use a wide variety of cutting-edge tools to constantly track and schedule content.
Regular posting increases online engagement with potential customers. It also shows you're a consistent, credible source of information.
Consistent production of data-driven content provides opportunities to insert targeted keywords and phrases. Doing so will boost your website's visibility and increase online conversions.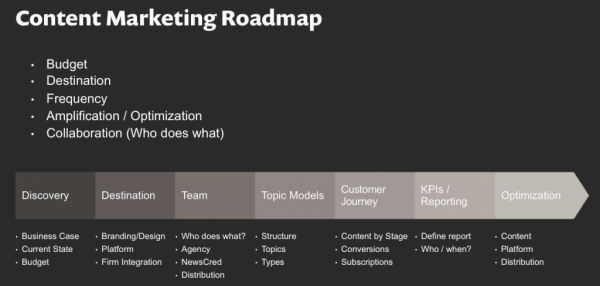 CONTENT DOCUMENTATION
In order for your business to run efficiently, its internal processes need to be documented and transparent throughout the organization. Your data-driven content strategy isn't any different.
Documenting your content marketing strategy involves informing everyone in your organization.Team members should be aware of the purpose, key messaging, and how the strategy will be executed and evaluated to gauge how the content boosts ROI.
Your marketing budget and the dynamics of your marketing team play significant roles in content documentation. Both will impact the tools you use and the efficiency of your content strategy's creation, distribution, and results.
The larger an organization's marketing budget and department sizes are, the more streamlined your content documentation process can become.
Content documentation results in buy-in and a unified internal message. When everyone is communicating the same message, brand credibility improves.
When a business distributes consistent content on a regular basis, its consumers are more willing to engage and convert.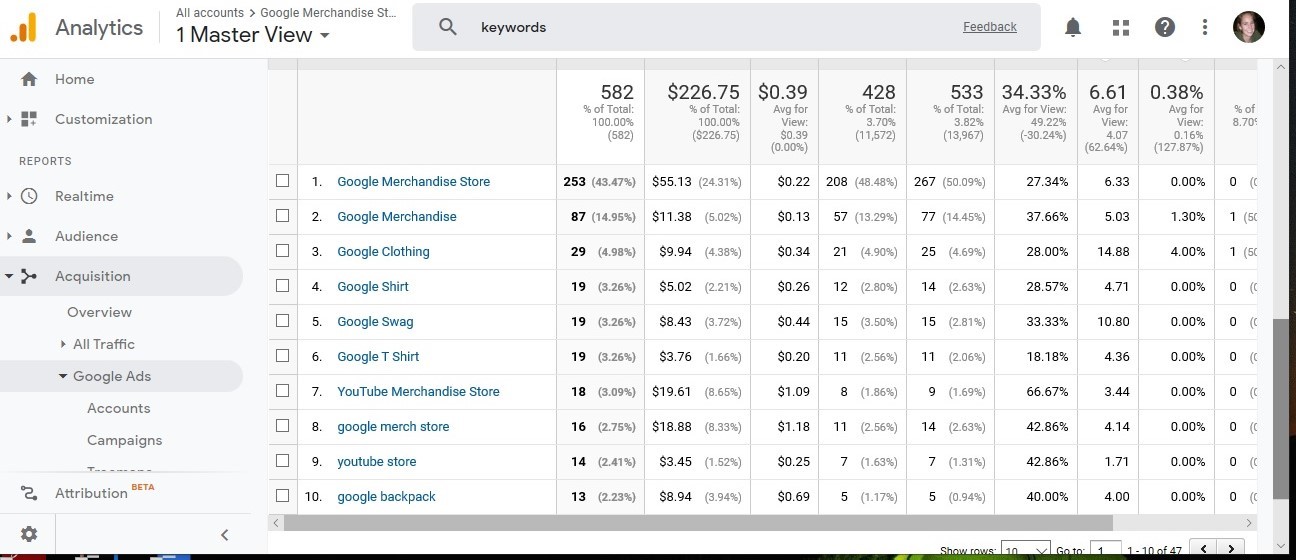 4. Don't Ignore Search Engine Optimization
While your data-driven content needs to first and foremost be aimed at providing valuable information to your audience, don't neglect search engine optimization (SEO). This valuable tool involves the use of search engines to rank online content. Content that is pertinent, beneficial, and understandable will rank higher in search results. Proper SEO optimization will boost the visibility of your content, increasing ROI.
There are numerous SEO tactics you can use to increase your content's visibility. Two of the easiest and most effective methods are the use of researched keywords and link building.
KEYWORD RESEARCH
Using good keywords is vital in getting your data-driven content to rank. Google Analytics is a popular tool that shows you which keywords to target.
You can also observe which keywords and phrases your audience and perspective customers are typing into the search bar. Google Trends shows you popular and trending keywords in your industry.
You will want to use these keywords throughout your content. However, you should avoid using the same keywords in multiple pieces of content. The ranking of multiple pieces of content for the same keywords will hurt their ability to appear higher in search results. When multiple pages rank for the same word, search engines will be confused as to which page it should rank. As a result, it will lower the ranking of both pages in search results.
The best keywords are long-tailed keywords with high search volume and low competition.
Be cautious not to "stuff" your content with keywords. Don't try to force a keyword into a sentence merely to use the keyword. Doing so will make the sentence sound awkward. Good content writing should work keywords in with ease so that the article remains reader-friendly and has a natural flow.
LINK BUILDING
As stated previously, your content needs to be authoritative and have trusted, reliable information. You can build brand credibility and authority through linking to respected industry websites.
Be careful to link to highly-regarded, well-known, trusted external sites. If you're not sure which sites to link to, look for industry-leading blogs, websites, and forums.
Be sure to include both internal and external links throughout your content. The following is a list of best practices for link building:
Disavow bad links
Never buy links
Avoid site-wide links
Don't use exact match anchor text
GUEST BLOGGING
Another common link building tactic is guest blogging, which involves the exchange of content between two sources. It requires outreach to industry-leading websites, brands, and influencers. Reach out and inquire if credible sources will share your content in a reciprocal arrangement.
You should follow at least five relevant "authority blogs" that align with the interests and content needs of your audience as well as your own marketing strategy. Guest blogging is a great way to get more eyes on your content and generate high-quality links.
Getting listed on applicable, online niche directories as well as major business directories like Google Business listing and responding to inquiries through services like Help a Reporter Out (HARO) are other link building tactics to consider.
It takes time, effort, and strategy to create effective data-driven content. For assistance in producing consistent, high-quality personalized marketing content, contact Jawfish Digital today.