The Top 16 CRMs Based on the Specific Needs of Your Organization
The Top 16 CRMs Based on the Specific Needs of Your Organization
Customer relationship management (CRM) software allows you to collect and organize vast amounts of lead and client information. The right system will monitor communication, automate tasks, and generate actionable insights.
With the right CRM, every interaction with customers, phone calls, emails, website visits, and social media engagements, are tracked and documented. CRM technology allows you to easily follow the progress of leads through the sales pipeline.
This facilitates the establishment of stronger relationships with leads, potential leads, and clients. In turn, your chances of successfully converting leads to customers increases. The streamlined functionality CRMs offer explains why 91% of North American companies with 10 or more employees were already using one by 2017.
This guide examines the top 16 CRMs and the features they offer to assist you in choosing the correct one to fit the specific needs of your organization.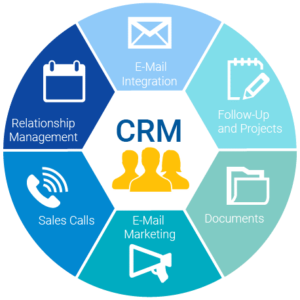 4 Easy Steps to Determine Which CRM is the Best Fit for Your Organization
There are numerous CRM platforms on the market. So, attempting to figure out which one is most suited to the requirements and expectations of your organization may seem daunting.
Follow these four steps to choose the CRM that best meets your organization's needs:
Identify and prioritize your business goals: Think about user adoption: Are your employees experienced techies who pick up on new software quickly? Or, do they shy away from change and find learning new systems daunting?
Consider your mobility needs: Do you have remote employees who need a cloud-based CRM that's accessible from anywhere?
Determine your budget: How much can you afford to spend on new tech solutions?
Perhaps you want to concentrate on generating more leads, offer better connectivity between employees, or simply increase sales conversion rates.
Top CRMs for Nonprofits and Fundraising
If you run a nonprofit or fundraising organization, CRM software can help you understand and interact with your donors like never before.
1. WEALTHENGINE
WealthEngine currently serves more than 3,000 active companies. The WealthEngine 9 platform includes WE Profiles, a feature that offers data on 250 million adults in the U.S. WE Profiles are based on wealth signals like charitable giving history, real-estate holdings, demographics, and propensity to give (P2G) scores.
WealthEngine takes the guesswork out of fundraising. Harnessing the power of machine learning, WealthEngine enables nonprofits to more easily discover leads, nurture relationships, and develop successful fundraising campaigns.
The WealthEngine 9 platform is currently the leading prospecting tool used by nonprofits and financial institutions.
To learn more about all that WealthEngine offers, request a free demo today.
2. SALSA
Salsa is one of the most popular CRM systems among nonprofits. It is currently used by more than 3,000 companies worldwide. Organizations that use this software typically see a 40% increase in productivity in the first year. A 35% boost in employee efficiency within the first twelve months is also common.
Beyond its usefulness for staff, Salsa allows nonprofits to grow their donations. Companies that use this software see a 28% increase in annual contributions and an 18% increase in gift size.
Sign up for a free demo to see how Salsa works first-hand.
Top CRMs for Sales Management
The right CRM can help your sales team determine which leads are most likely to convert.
1. NUTSHELL
Nutshell makes it easy for your sales staff to complete daily tasks. Nutshell's automated features take care of repetitious administrative duties freeing up your sales team to focus on closing deals. This system can auto-assign new leads to the appropriate reps based on criteria like territory, potential deal size, and product specialty.
One company, Eclectic Music, was able to automate their sales pipeline with Nutshell and clear up 50% of staff time. As a result, Eclectic Music employees now focus more attention on lead nurturing, sales, and customer service.
Register for a live demo of Nutshell, or sign up to receive a recording of the software in action.
2. SALESFORCE
This CRM system allows sales teams to build complex task management processes and streamline collaboration. Salesforce automates tedious tasks and decision-making processes, giving employees more time to concentrate on prospects.
One of the top players in the sector, Salesforce holds a 16.8% share of the global CRM market. The latest reporting from 2018 shows the company has 1,600 customers. This makes Salesforce one of the largest and most valuable software companies in the world.
To learn more about Salesforce's features, sign up to watch a free demo.
Top CRMs for Lead Generation
CRM software can enhance any lead nurturing process, creating better client relationships.
1. LEADBOXER
If you want to determine which of your prospects are most likely to convert, LeadBoxer may be able to help. This software uses big data to identify, capture, and segment leads, giving your sales team actionable and insightful data.
According to one study, 71% of marketers identify their top objective in lead generation strategy as increasing lead-to-customer conversions. CRM software like LeadBoxer can assist in making that goal a reality.
Get a full walkthrough of LeadBoxer by scheduling a free demo.
2. ONEPAGECRM
OnePageCRM is considered one of the easiest CRMs on the market, offering a to-do list-based approach for converting a lead into a customer. This low-maintenance sales tool, which debuted in 2009, has already hit 10,000 active users.
OnePageCRM offers new updates each month, including the recent development of Lead Clipper, a Chrome extension that automatically pulls in contact details from Gmail, Outlook, Facebook, and Twitter.
If you want to try out OnePageCRM, sign up for a 21-day free trial.
Top CRMs for Employee Management and Interdepartmental Communications
CRM software can be an invaluable tool for streamlining communication and employee management.
1. PINGBOARD
With Pingboard, you can track employees and maintain and track company communications in one easy-to-access place. This software is excellent for remote teams that want to ensure all workers are on the same page.
Companies that use social technology like Pingboard—which offers employee profiles, homepage feeds similar to social media platforms, and instant messaging for communication can increase worker productivity by 20 to 25%, potentially boosting revenue.
Pingboard plans start at $99 per month with a 30-day money-back guarantee for annual subscriptions.
2. SAMEPAGE
This collaboration software allows you to build teams, assign tasks, upload files, create online chats, and manage projects from anywhere in the world. Workers can share ideas in real-time, allowing them to produce results more quickly.
Telecommuting is at an all-time high. 3.4% of the U.S.population now works remotely. This unprecedented move to virtual employment makes online collaboration tools more important than ever.
Samepage offers a 30-day free trial, along with a free basic plan that can accommodate small businesses.
Top CRMs for Healthcare Organizations
In the healthcare sector, accurately tracking patient data and managing outreach is crucial, making CRM software an invaluable tool.
1. VEEVA CRM
This web-based CRM allows healthcare companies to track the entire lifecycle of a patient. All of the features focus on intelligent customer engagement, planned coordination across multiple platforms, and actionable insights based on customer needs and interests.
For healthcare firms focusing on telehealth services, Veeva CRM offers integration with Zoom and Microsoft Teams, allowing for greater flexibility.
To learn more about how Veeva CRM works, watch the recorded demo.
2. VERIOMED
VerioMed is an excellent CRM choice for organizations that are committed to offering superior customer support and case management, as it can automatically track data across platforms, identify trends within patient behavior, and gain insights from lab and physician tests.
VerioMed maintains that companies using its software see 25% faster lab turnaround times and increased productivity.
To determine if VerioMed is right for you, sign up for a free demo on their homepage.
Top User-Friendly CRMs
If you're worried about CRM integration, you can find an easy-to-use system that even the most tech-adverse employee will love.
1. FRESHSALES
This CRM software offers everything you need to get started, including video tutorials, articles, and a dedicated support person. All functions and navigation options are clear and easy-to-follow, from sending emails to chatting with in-house team members.
One company that uses Freshsales, Curacubby, saw a 150% increase in their conversion rate and a 44% increase in monthly recurring revenue.
Sign up for a one-hour demo to learn more about the product's features.
2. PIPEDRIVE
Pipedrive offers a visual approach to customer management. The drag and drop feature makes it easy to move information between stages of the sales pipeline. You can integrate your email and other platforms to keep data in one location.
Pipedrive recently revamped their user experience, adding new navigation that better reflects how workers think and work.
You can try out Pipedrive for free for 14 days by signing up on their homepage.
Top CRMs With Integration Options
If your business uses an omnichannel approach, you need a customizable CRM with the right integration capabilities.
1. AGILE CRM
This software offers numerous one-click plugins and integrations with third-party services and apps. You can easily connect your email, social media, e-commerce store, billing platform, and customer support apps.
ClicData is one brand that began using Agile CRM to improve reporting and boost efficiency. As a result, they saw a 90% increase in lead follow-up and a 30% growth in sales conversions.
Schedule a free demo to learn more about Agile CRM, or try out their free basic plan.
2. ZOHO CRM
With Zoho, you can connect with and track customers via numerous channels, including email, social media platforms, chatbots, and your website. The software also integrates with telephone services, allowing you to make, log, and track calls.
More than 150,000 businesses across the globe use Zoho CRM, including industry leaders like Netflix, Bose, and Amazon India.
You can check out Zoho CRM free for 15 days, with plans starting at $12 per user per month afterward.
Top Free CRMs
You don't have to spend money to reap the benefits of CRM software. Instead, you can try one of these free options:
1. INSIGHTLY
If you want the best free CRM software for real estate or another data-centric industry, you can't go wrong with Insightly. This system automatically tracks emails, phone calls, meetings, and tasks, allowing employees to follow up on leads while they're still hot.
Insightly launched a new mobile app this year. The Insightly CRM Mobile app is ideal for 60% of surveyed people who say they use a mobile device for customer management every day.
Request a free demo to see how Insightly works.
2. HUBSPOT
Hubspot is a popular software option, offering invaluable features like prospect tracking, meeting scheduling, and live chat. With email integration, it's also one of the best free CRMs for Gmail.
One organization, Airstream, used Hubspot to simplify and scale their lead generation strategy. With Hubspot, Airstream increased leads generated by 78% and decreased their cost per lead by 44%.
Sign up for a free demo of Hubspot, or get a free account and start using the software today.
Choosing the Best CRM for Your Business
Whichever CRM you choose, you will find your organization can better manage customer data, streamline communication, gain valuable insights into client behavior, and increase productivity. A CRM is a necessity for success in today's competitive business world.
If you haven't adopted a CRM software yet, what are you waiting for?
You can follow our Jawfish Digital Blog and find more content.