How to Come Up With a Content Promotion Strategy
This post is part of a 9-step guide to creating a Content Strategy. To return to the landing page for this guide, click here.
Finally, we've hit promotion.
Many other Content Strategy resources out there, don't talk enough about promotion and how important it is to your strategy. So I wanted to include a whole section on it (before we get to the next step, which is on creating a content calendar).
I've tried to sprinkle in how important promotion is in the others sections of this guide. But in case you haven't gotten the idea, just so we're clear, promotion is just as or even more important than creating content itself.
If all you do is create content and no one see it, what is the point?
So you need to make sure you are developing your Content Strategy with promotion in mind.
Consider:
What type of promotion will you do?
Who is going to spend time on promoting? The writer or another person within your department?
Do you have an email list to promote to?
Do you have followers on social media?
Do you know how to do effective email outreach and link building?
How much time can you dedicate to promotion?
Promoting effectively doesn't mean only sending to your email list and posting to social media. For sure, do those, but effective promotion takes much more effort and work than that. A lot of time will need to be spent on finding related content and doing email outreach to try to get backlinks to your site.
Remember, backlinks are an important factor when ranking in search. So you need to spend a considerable amount of time reaching out to influencers in your industry to try to get them to link to your content.
With that said, here are some promotion methods to consider:
Email Blast
This first one is pretty straightforward. If you produce an article, video, or any other web content, make sure to send it out to your email list.
This is an easy way to get your content in front of your audience to see how it performs.
Automated Email Processes
This one is a bit more advanced, and may or may not be right for you, depending on what you are hoping to achieve.
In any case, consider setting up an automated email process to promote your content. This might include sending out a series of emails to promote a course that you developed.
You might send this to members already on your email list, or have specific forms on your website that enter people who sign up, into this email automation series.
Social Media Blast
Again, fairly routine. Make sure you post on your social media accounts if you publish a new article, video, course, etc. Consider which networks your personas use and be sure to share to those networks.
You can use a tool like Buffer to schedule your posts to make the process even easier.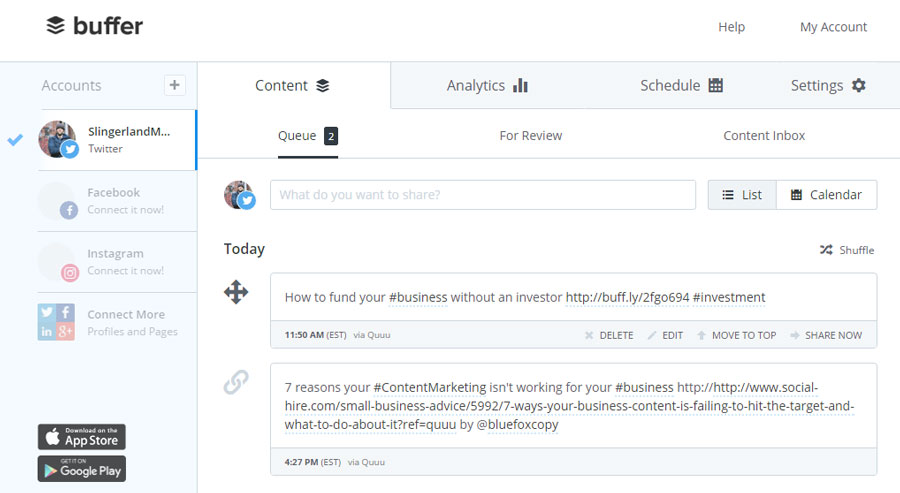 Social Media Ads/Promoted Posts
If your content is particularly visual, you may consider paying for ads on Pinterest or Instagram to promote it. Consider again, where your personas spend their time. Will it make sense to advertise on these networks? Do our personas use these social networks?
Facebook is also great for promoting articles, video, and even events in someone's newsfeed. I see companies that do this all the time to much success.
Consider advertising and promoted posts carefully then choose the networks that your personas use.
Email Outreach & Link Building
This is by far going to be the most important promotion method for improving your ranking and increasing search traffic to your website. I'll stress it one more time, backlinks are the number one factor when ranking a site, so it's important to spend a significant amount of time trying to get people to link to your site.
Some methods include:
Emailing the authors of the articles you linked to in your new article and letting them know you linked to them. That will get them to check out your article and hopefully link to it in the future (if it's a great piece of content).
Searching for content related to yours and emailing the writer to let them know you published this great piece of content.
Reaching out to influencers on social media, then again letting them know what a great piece of content you just published.
The list goes on. There are tons of ways to go about getting links (for more, I recommend checking out this list by Brian Dean of Backlinko). But again, it's something that can take quite a bit of time, so you need to make sure you are aware and factor that into your overall strategy.