How to Define Content Strategy KPIs (in 2018)
This post is part of a 9-step guide to creating a Content Strategy. To return to the landing page for this guide, click here.
As I mentioned briefly in the previous step, you want to take into consideration that creating content is not only about just creating content itself. It's also about measuring if what you're doing is actually working.
With that said, sometimes it can't be hard to define what metrics to measure and what to keep track of in order to define success. Especially, if your goal is to improve brand awareness or establish authority.
But in any case, you need to sit down and think about what indicators are going to define success for your Content Strategy.
As I said earlier, I would pay special attention to creating search traffic. So here are some appropriate metrics to keep track of when producing content to rank in Google:
Keyword Ranking
If you're writing content in order to attract search traffic and rank for a specific keyword, you need to keep track of your keyword ranking for that piece of content.
To do this, you could find rank manually by searching your target keyword in Google (under incognito mode) until you (hopefully) find your listing. Or you could use a tool like Ahrefs, Moz, or Spyfu. I like Ahrefs the best, so here's how you would do it with Ahrefs:
Take your URL and type it into the search box.
Click on Organic Keywords in the box to the left.
All the keywords that rank for that URL will be shown. Find the keyword you intended the page to rank for and make note of where it is. Be sure to track this over time to see how your efforts are paying off.
Backlinks
Since backlinks are vital to ranking in Google, it's a good idea to keep track of the number of backlinks your content is acquiring. Now, not all backlinks are created equal. Backlinks from relevant and authoritative websites are going to carry more weight.
But, marking down how many backlinks you are acquiring over time will give you an indication as to whether your content is resonating with your audience and the people who can link to it. It will also let you know if your email outreach and link building efforts are working.
You can again find backlink information using a tool like Ahrefs.
Visits (Sessions) & Visitors (Users)
Visits (Sessions in Google Analytics) and Visitors (Users in Google Analytics) are a pretty standard metric to keep track of. Visits and visitors will indicate if you're site is actually acquiring new traffic.
With that said, you may also want to keep track of the number and percentage of new visitors, as opposed to returning visitors.
Email Signups
This is especially important to keep track if your goal is to increase signups or to improve your conversion rate.
If you're using an email service provider like MailChimp you'll be able to see how many signups you are getting each day. You can also compare the number of signups from month to month. Or if you're using WordPress for your website, some plugins even keep track of submissions.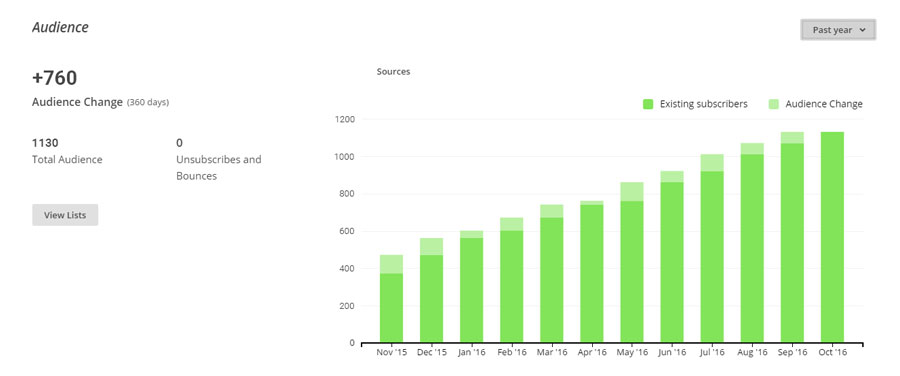 Regardless of which method you use to track email signups, be sure to mark down how many signups you were getting, within a given time frame, before you initiated your strategy. That way you'll be able to A/B results and see if what you're doing is actually working.
Keep track of not only the number of signups but the conversion rate as well.
Time on Page (Dwell Time)
Another important metric to keep track of, particularly when dealing with web content and trying to improve search ranking, is "Time on Page" (sometimes referred to as "Dwell Time").
Time on Page is becoming an increasing factor in how Google ranks your page. It indicates if your content is actually valuable to people and that they're sticking around to read it. This is not only important to Google but to you as well in evaluating if the content you are producing is resonating with your audience.
Be sure to keep track of this metric and see if it is increasing over time.
Click-Through-Rate (CTR)
Again, another important metric for search ranking is Click-Through-Rate (CTR). Google is also starting to put more importance on the CTR of search results. If your page has a high CTR, Google will tend to give it a boost because it believes people are finding your content valuable and it will want to show it to others.
Keeping track of CTR will let you to know if your headlines (page titles) are catchy and that people are interested in reading your content. The same goes for the Meta Description, as it too affects CTR.
Social Shares & Comments
Social shares are probably not the top ranking factor but they will provide insight into whether or not your content is working. Comments and social shares are both indicators to Google that people like your content and others will too. Therefore, Google tends to give pages that have a lot of social shares, a boost in the search result rankings.
They also indicate that the content you are producing resonates with people. So much so, that they are willing to share it, which is exactly what you want.
Advanced Metrics
Here are even a few advanced metrics you may consider keeping track of:
Page Read-Through
How far down did your visitors read through your page? Do know?
You can grab this metric using a tool like Sumo. This will let you know if people are actually sticking around to read your content and where people tend to leave.
Page Load Speed
Website speed and page speed (they can be different), can affect your search ranking too. If your website or pages load too slowly, Google may favor another website instead of yours.
To check your page speed, you can use a tool like Google PageSpeed Insights:

or GTmetrix: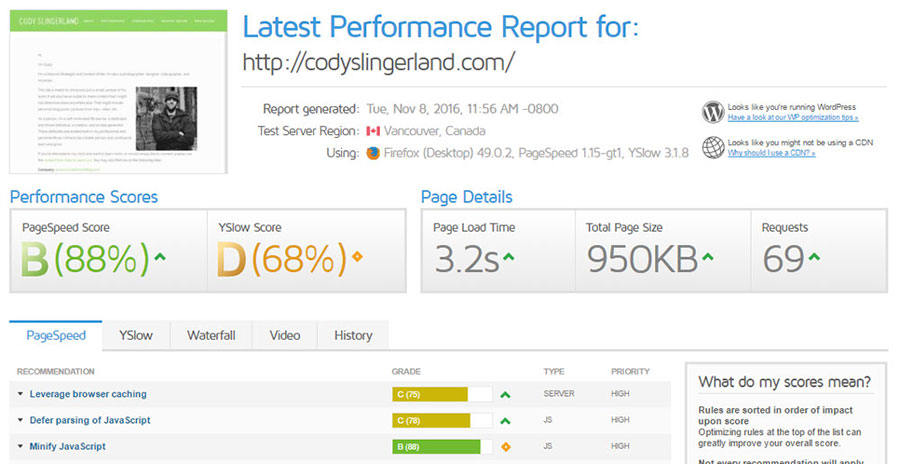 I recommend using both to get a good idea of how your site is performing.
I know these primarily focus on search, so here are a few good resources on important metrics for Content Marketing: