25+ Content Editing Tips & Tools
Even though it's overlooked and often misunderstood, there's one phase of editing that can transform your content from mundane to extraordinary.
If your livelihood depends on creating great content on a consistent basis, then content editing is one tool you can't live without.
In this guide, you'll find 25+ practical tips and tools you can begin using immediately.
But first, let's shine a light on content editing and take a look at how it differs from copyediting…
Content Editing vs. Copyediting
Editing is a broad term and encompasses several steps.
Most content creators are familiar with copyediting and proofreading, even if they don't always put them to use. But content editing, or developmental editing, is overlooked and misunderstood by a large portion of the writing community.
Though the terms may seem interchangeable, copyediting and content editing are two separate phases of the editing process.
Copyediting is a much more technical form of editing. It's essentially editing at ground level, looking close for grammar errors like spelling and punctuation.
Copyediting involves the examination of several elements, including:
Spelling
Punctuation
Verb & Tense Agreement
Basic Rules of English
These are ground-level errors. Content editors will likely pick up on mistakes like this and correct them when possible, but the main focus is elsewhere.
Content editing involves editing the article from a bird's eye view.
It requires a more generalized approach. It requires objectivity. This makes it difficult for many writers to edit their own work effectively. It's obvious when a word is misspelled, but it's not so easy to spot problems with structure or format when you're so invested.
Content editing usually comes first and focuses on several elements, including:
Target Audience
Theme
Flow
Layout/Structure/Format
Conciseness
Consistency
Now that you have a better understanding of content editing, what it is and what it isn't, let's dive into some of the most valuable tips and tools you'll need to navigate the editing process.
Content Editing Tips
1. DETERMINE FORMAT TYPE
The format you use is usually determined by the type of content you create. It's also determined in part by the end goal.
For example, if you wanted to inform readers in detail, you would use the expository format. If you wanted to convince readers to buy your services, you would use the persuasive format.
It's normal for an article to have a combination of formats.
The five main formats of writing are:
Expository
Descriptive
Narrative
Persuasive
Creative
2. THE OUTLINE
Outlines not only make drafting a breeze, but they also simplify the editing phase. Content editing goes much more smoothly when an outline is used in the initial phases.
There are several types of effective outlines. The outlines below are listed from least to most detailed.
Scratch Outline
A scratch outline is not as detailed. It's essentially a list of main points without much detail. Many writers already use this type of outline without even knowing it.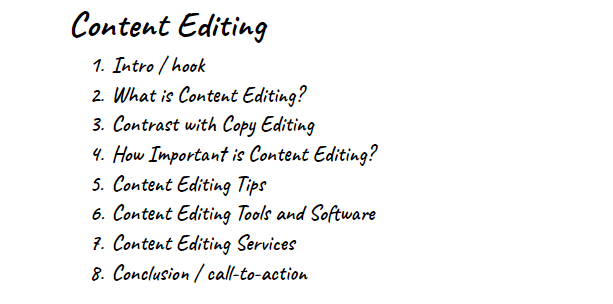 Informal Outline
An informal outline is a bit more detailed than the scratch outline. It provides more insight into each developing point and groups related points together. This provides you with a clear idea of which points go together, improving the flow of your article.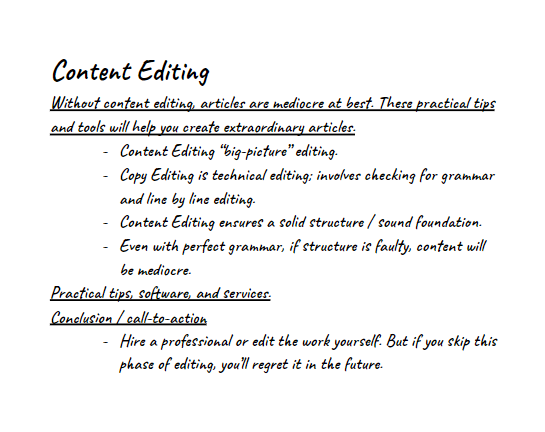 Outline Tree
The outline tree offers a more visualized representation of how major points relate to each other. It can be as detailed or bare as you wish.
It's great for content editing because it allows you to move whole sections around without having to actually move them in the article itself.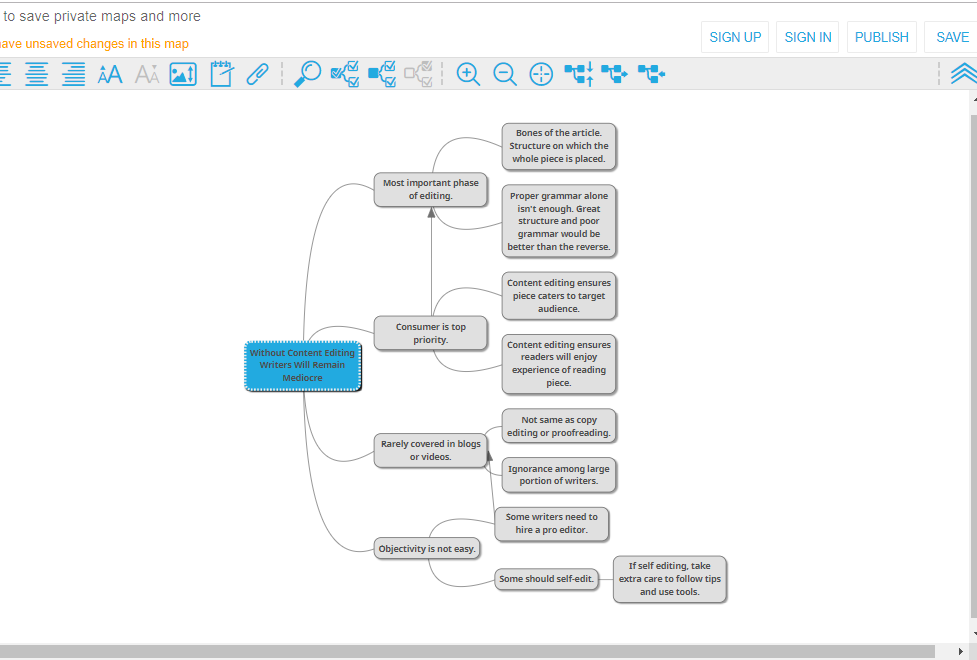 Formal Outline
The formal outline is similar to the outline tree in that it can be as detailed as you want it to be. The only difference is that it's not as much a visual representation. Instead, the formal outline is essentially a highly detailed bullet list.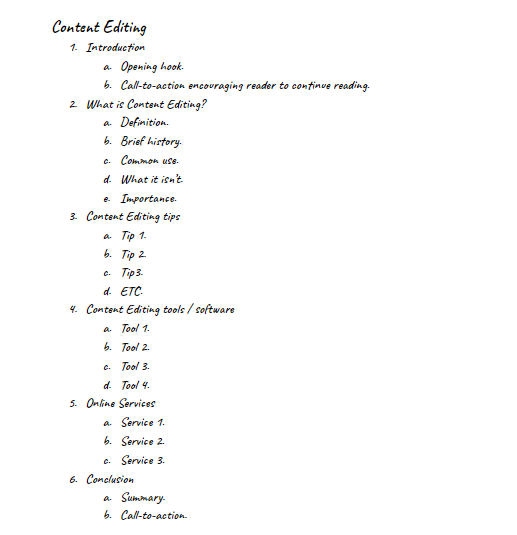 3. CREATE A CONTENT EDITING PROCESS CHART
If you want to streamline your process and cut back on mistakes, try out a process chart. It's essentially a downscaled content strategy designed in the form of a mind map.
While a checklist is adequate, some writers prefer the aesthetic appeal of a mind map.
Follow these instructions to create a process chart using MindMup:
Using MindMup, create a new map: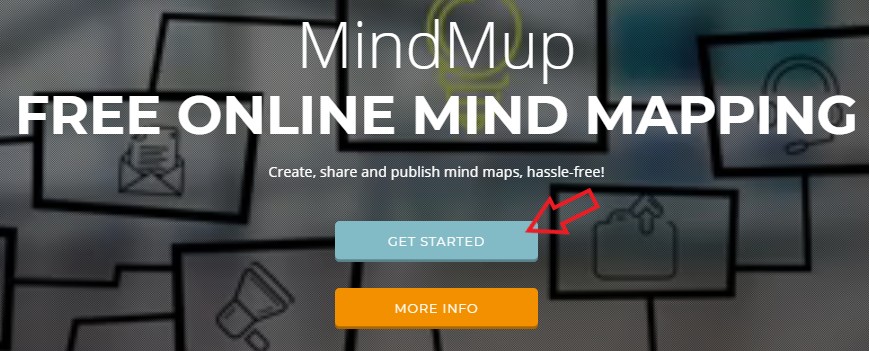 Press the Spacebar or double click on the blue box and rename it to Content Editing Process Chart, or whatever name you prefer.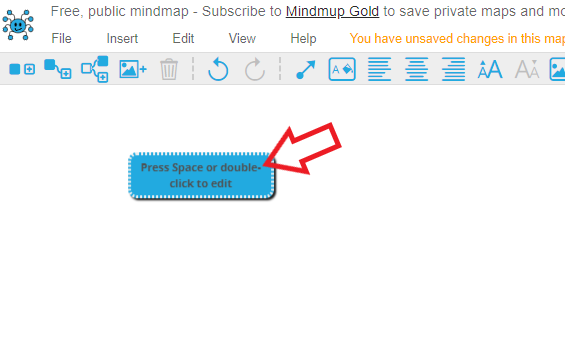 Click "Insert child node." Name it whatever you would like the first step to be. If you perform better at a certain time of day, add the time of day in the first node. Click the same child node button for each new step.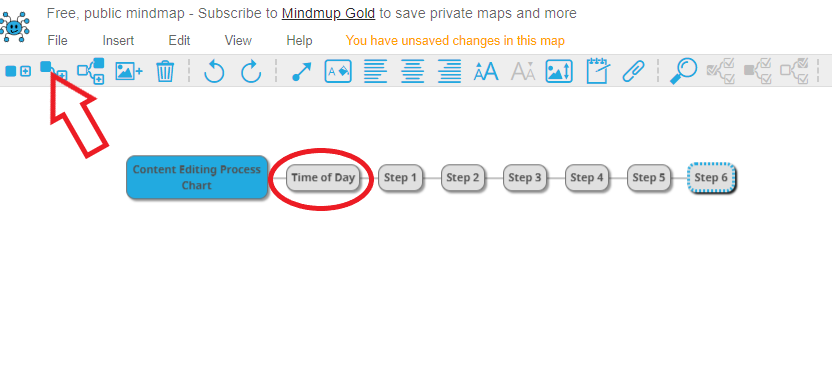 If you'd like to add alternate steps for one or more steps, just click on the step you'd like to add an alternate to and then click "Insert sibling node." Alternatively, you can click on the step you'd like to add an alternate to and press "Enter."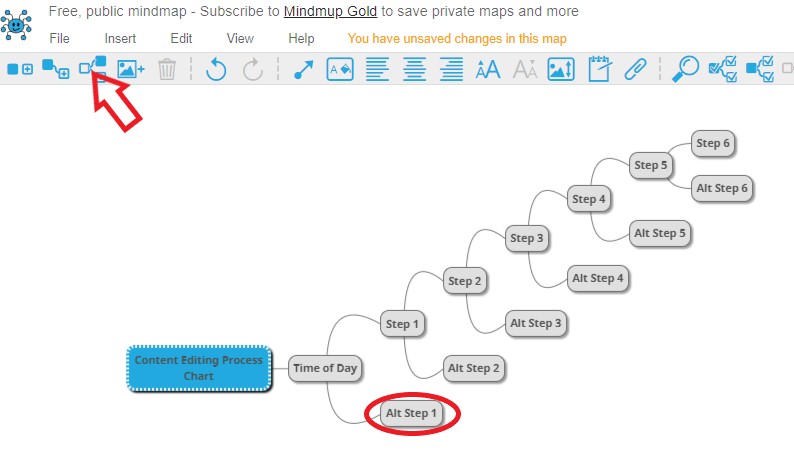 This process chart was created using MindMup, but the strategy can be used on any mind-mapping software or even on paper. This strategy should not take the place of an actual content strategy. For help creating your own content strategy, check out our comprehensive guide here.
4. DON'T SWEAT THE SMALL STUFF
Most writers know not to worry too much about spelling, punctuation, or word choice during the initial drafting stages. But even in this initial editing phase, it's a good idea to go through at least once without worrying about grammar issues or any other guideline issues.
Focus more on the flow and structure of the article. During this phase, you'll likely make changes to paragraph structure and layout.
You'll also want to keep the overall thesis in mind, as well as the target audience. This is complex enough without adding the stress of changing words and erasing commas.
5. FOCUS ON VOICE/BRAND CONSISTENCY
The voice of an article is somewhat determined by the format of the article. The format dictates whether or not things like humor and hyperbole are allowed. The format is content editing, but there's an even more broad view at play here.
Stepping back from the article, the voice also needs to be consistent with your brand identity.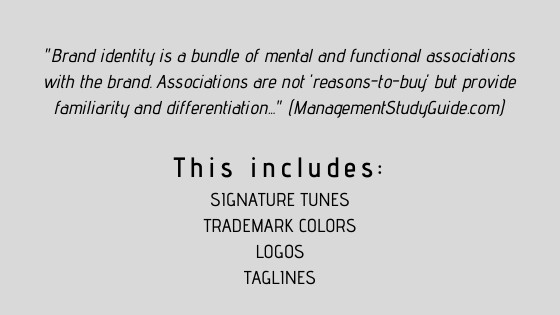 Management Study Guide has an entire section completely devoted to brand management. It's a free resource and it's invaluable.
6. PARALLEL STRUCTURING
Traditionally, it was a common consensus that one paragraph should house one idea. Recently, however, it has become a good practice to break up bulkier paragraphs into smaller, bite-sized paragraphs.
For complex sub-topics, incorporate parallel structuring to keep readers engaged.
According to Purdue University's OWL Lab, Parallel Structuring is defined as "using the same pattern of words to show that two or more ideas have the same level of importance."
For instance, take the following example: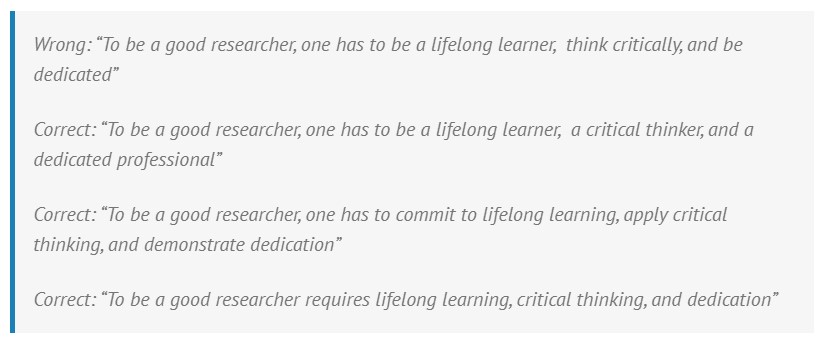 There will be editors who argue that paragraph editing is copyediting, but the impact it has on the structure and flow of the article is unmistakable. Therefore, it's included here as an important element of content editing.
7. USE SMOOTH TRANSITIONS
Since we're on the subject of paragraph editing, ensuring a smooth transition from one sub-topic to the next is crucial.
The most effective means of producing a smooth transition is the use of transition words.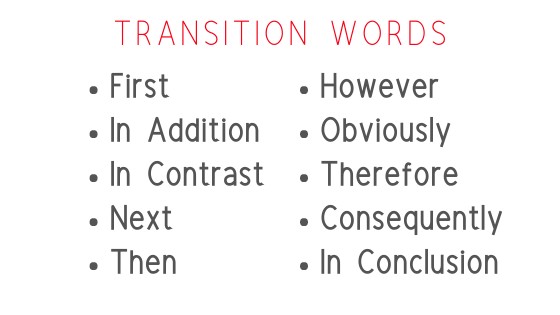 This may seem elementary, but you would be shocked by the number of writers that fail to incorporate transition words. It leads to sudden shifts that seem confusing and out of place.
8. HOOK READERS FROM THE BEGINNING
Most salespeople will tell you that you only have a few seconds to hook a prospect before they shut you out forever.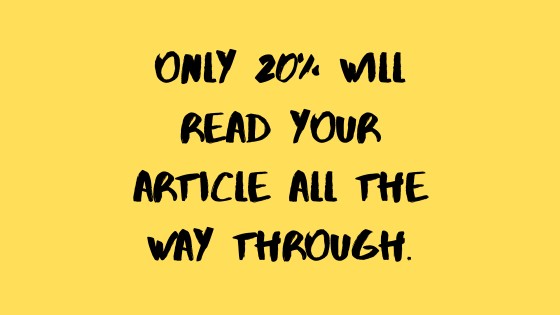 Everyone knows the importance of making a good first impression. This is especially true in the world of content strategy.
If the beginning of your article doesn't hook readers immediately, there's a good chance they'll back out and forget all about your brand.
Start with a promise or a guarantee. Ensure readers that their time would be well spent reading your article in its entirety.
If you were creating a guide for content editing, you could begin with the following:
"Even though it's overlooked and often misunderstood, there's one phase of editing that can transform your content from mundane to extraordinary.
"If your livelihood depends on creating great content on a consistent basis, then content editing is one tool you literally can't live without."
This opening paragraph poses a question and makes a promise simultaneously.
The question is, "Are you taking advantage of the one phase of editing that can completely transform your writing?"
The promise is, "If you read this article, you'll learn how to take advantage of the one phase of editing that can completely transform your writing."
9. UTILIZE CALLS TO ACTION
Assuming you hook your readers from the start, there's a good chance they'll end up at the end of your article, the second most valuable piece of real estate.
This is your chance to tell readers what to do next. You do this with a Call-to-Action (CTA).
While the conclusion is the most obvious spot for a CTA, it's common for writers to add CTAs sporadically, depending on the length of the article.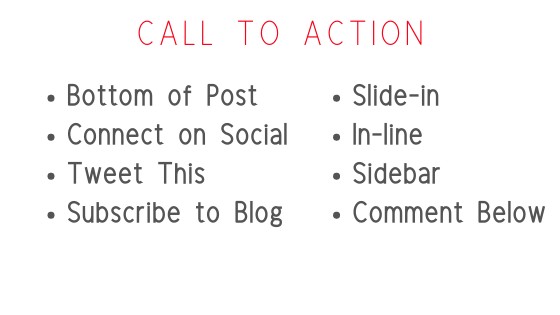 HubSpot adds a "Related Articles" section at the bottom of their blog posts. This excellent CTA encourages readers to stay on their site longer.
10. STORYSELLING
One of the biggest mistakes you can make is to assume that just because you're writing nonfiction you're not telling a story.
Even though your article isn't a work of fiction, it's still a story. All of the elements that make up a story are there.
Responsory.com has a great article on Storyselling. Some of their tips include:
Focus on transparency
Begin with a hook (previously mentioned)
"Give meaning to a product that is otherwise impersonal…"
Incorporate a before-and-after situation to highlight the benefits of using your brand
EXAMINE ARTICLES FROM A CELL PHONE AND TABLET
Web pages look a lot different on smaller screens. What's more, Google penalizes websites that don't incorporate a responsive theme that changes depending on the type of device being used to view the web page.
Paragraphs that look small and suitable on a laptop or desktop will look much larger on a smartphone.
As you go through the editing phase, view your article or web page from your smartphone. You'll be amazed at how much larger paragraphs seem on a smaller screen.
According to Proficient Digital, almost 60% of visits to websites in 2018 came from phones and other mobile devices.
CONSIDER HIRING A PROFESSIONAL CONTENT EDITOR
There's no shame in outsourcing your editing work. This is especially true for writers that don't have the time to edit their work thoroughly.
It's a much better idea to outsource this type of work than to skip it, or to perform it haphazardly.
Toward the bottom of this article, you'll find a list of online resources that will assist you in finding the right editor for you.
Editing is a painstaking job. The hourly rate of many of the editors you'll find online may take you by surprise. Just keep in mind the importance of proper editing and the peace of mind you'll enjoy knowing your finished product will be strong and polished.
Content Editing Tools & Software
11. MINDMUP

MindMup is a free online mind mapping tool. Free users can save maps up to 100KB for six months. Do not underestimate the power of a good mind map. There are free and paid plans available.
12. GRAMMARLY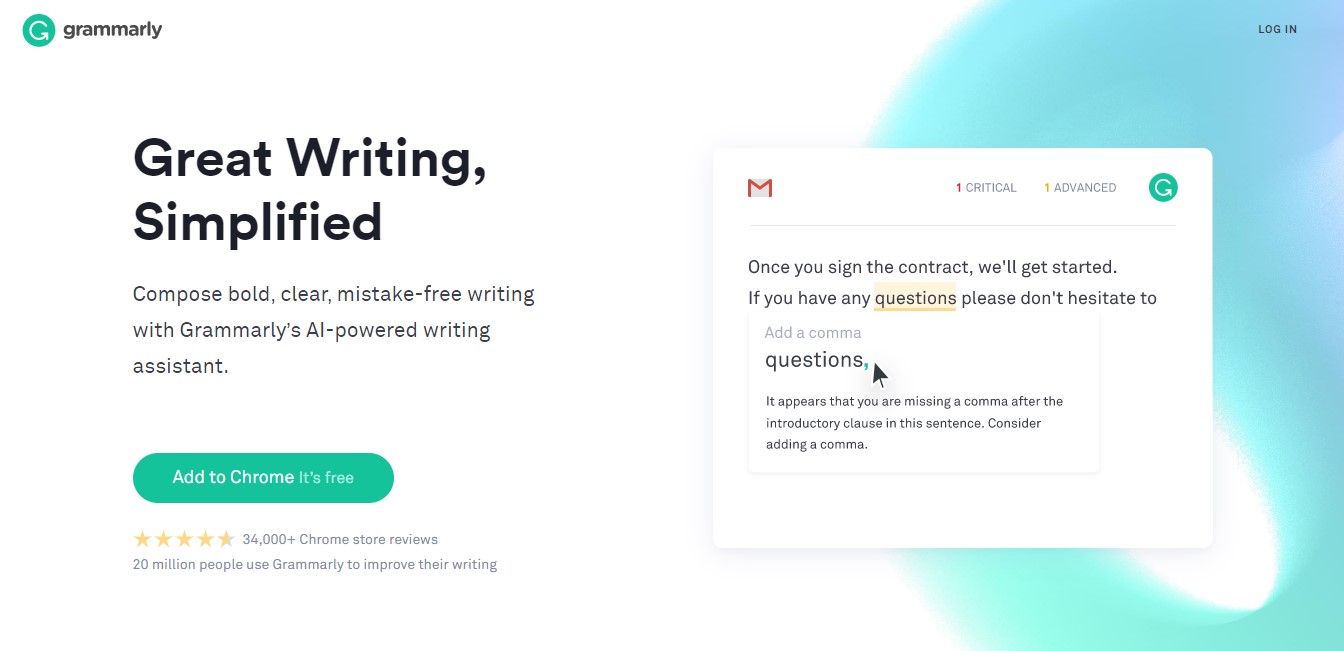 Grammarly is a free online grammar checker. Grammarly eliminates grammar errors, ensures advanced grammar rules are followed, offers vocabulary enhancement, checks for plagiarism, and corrects contextual writing mistakes. Free and paid plans available.
13. EVERNOTE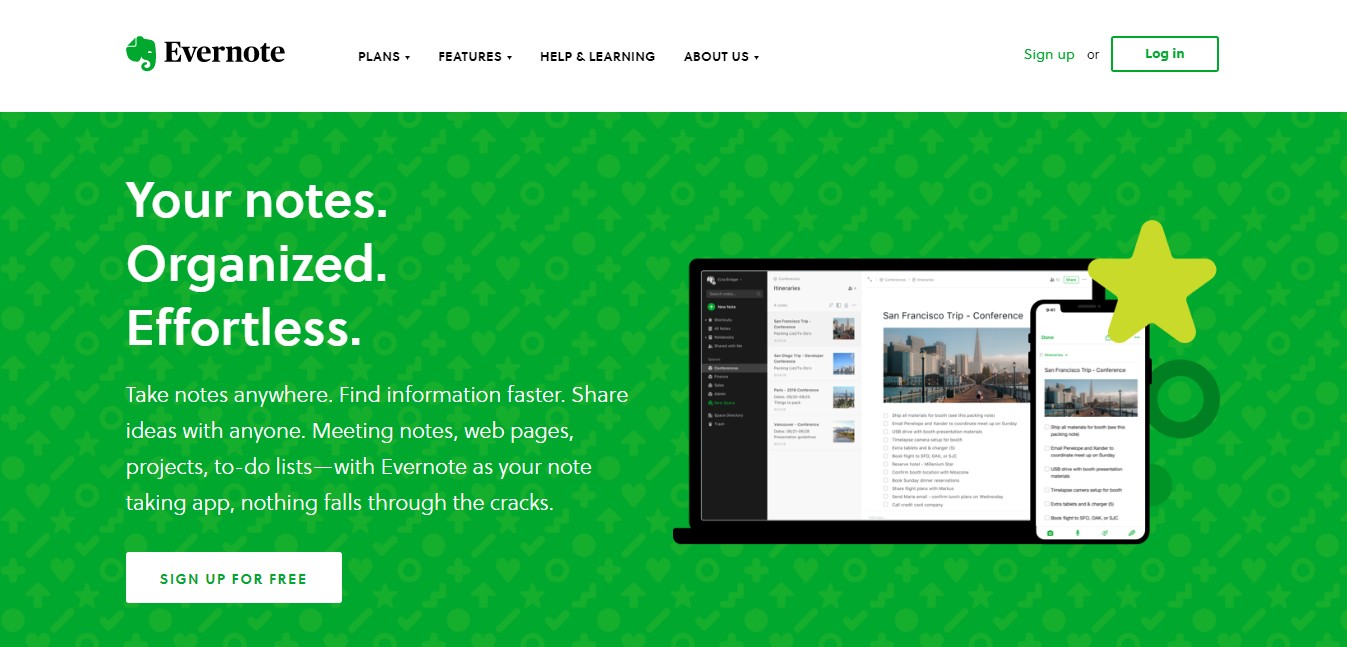 Evernote is basically a glorified note-taking app. It allows you to save notes and notebooks and also syncs across multiple devices via a saved profile. Evernote premium is their top tier and includes the most features. But there's also a free plan available.
14. ASANA

Asana is a highly recommended workflow and project management app. If you work with or manage a team, Asana is a smart investment. They have a basic account that is free. They also offer paid plans.
15. ONLINE DICTIONARY & THESAURUS
The value of having quick access to an online dictionary and thesaurus should be obvious. But with a vast array of free resources for writers all located in one place, dictionary.com is in a league of its own. Navigating to dictionary.com will provide access to the dictionary and the thesaurus. Both are free.
16. CANVA

Canva is the perfect app for creating beautiful creatives, graphics, and images. It's also a great place to edit images. You can upload images and work with them on Canva's interface. There are free and paid plans available. The free plan is adequate for just about any small project.
17. AFTER THE DEADLINE
After the Deadline is a free online spelling and grammar checker. What separates After the Deadline is the open-source technology. The artificial intelligence is constantly evolving. This app is completely free to use.
18. STACKEDIT

StackEdit is a free editor. Similar to After the Deadline, StackEdit is open-sourced. It's unique in that it's a Markdown editor. For all you writers who prefer Markdown, StackEdit is a must. It's completely free to use.
19. HEMINGWAY

The Hemingway App highlights and corrects grammar errors, fluency, and sentence structure. This app is recommended by authors and creators worldwide and it's free to use.
20. COPYSCAPE

Copyscape is a free plagiarism checker. It allows you to search for duplicate content and ensure that your text is original. It isn't an editor, but it enhances productivity and makes your life easier.
21. TEXT VERIFICATION TOOL

Text Verification Tool (TVT), is an all-in-one software that checks text, spelling, barcodes, and artwork. It generates one report no matter how many elements you use. They offer a free trial.
Content Editing Services: Finding Great Content Editors
Use the following resources to find qualified editors. If you're looking for content editing services, keep in mind that many editors use the terms substantive editing and developmental editing instead of content editing.
JAWFISH DIGITAL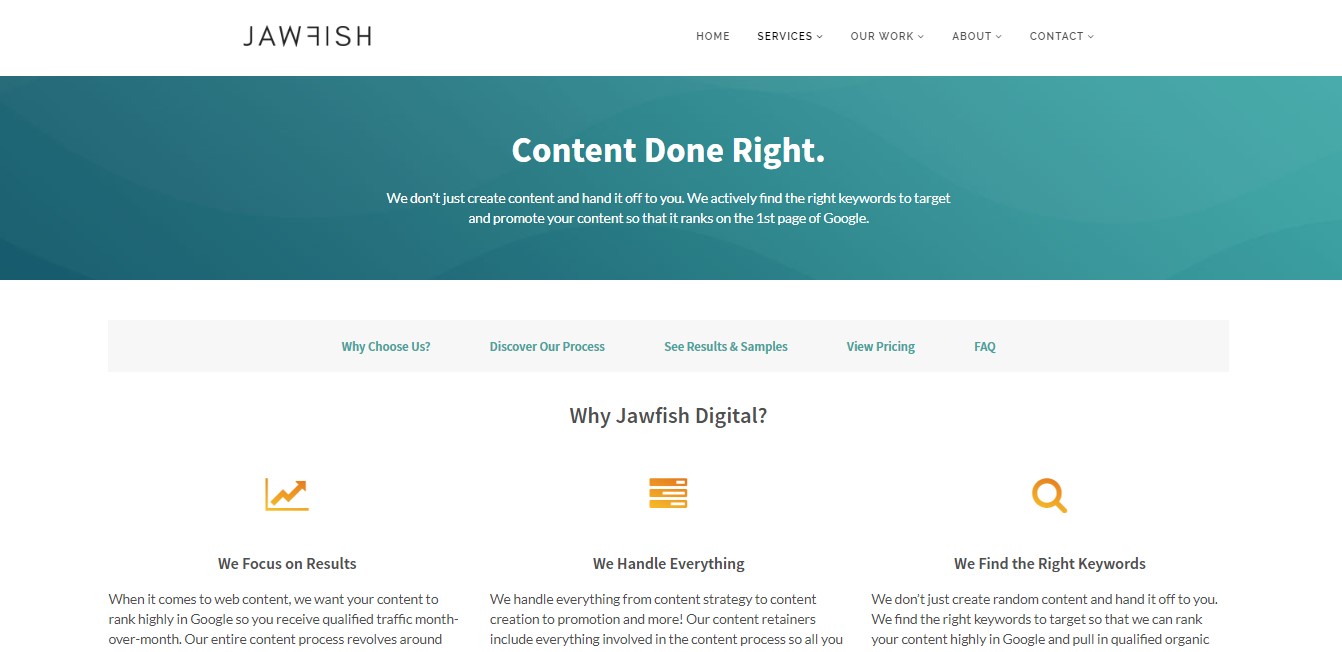 While we aren't a "content editing service" per say, we do edit a lot of content! Our process is to create and promote content for clients and to try to rank that content in Google.
With that being said, any article we produce for customers is is refined until each clitent is completely satisfied with the piece. We handle all edits and revisions, including formatting, wording, design, and more. Find out more about how our content creation and promotion services work here.
22. FIVERR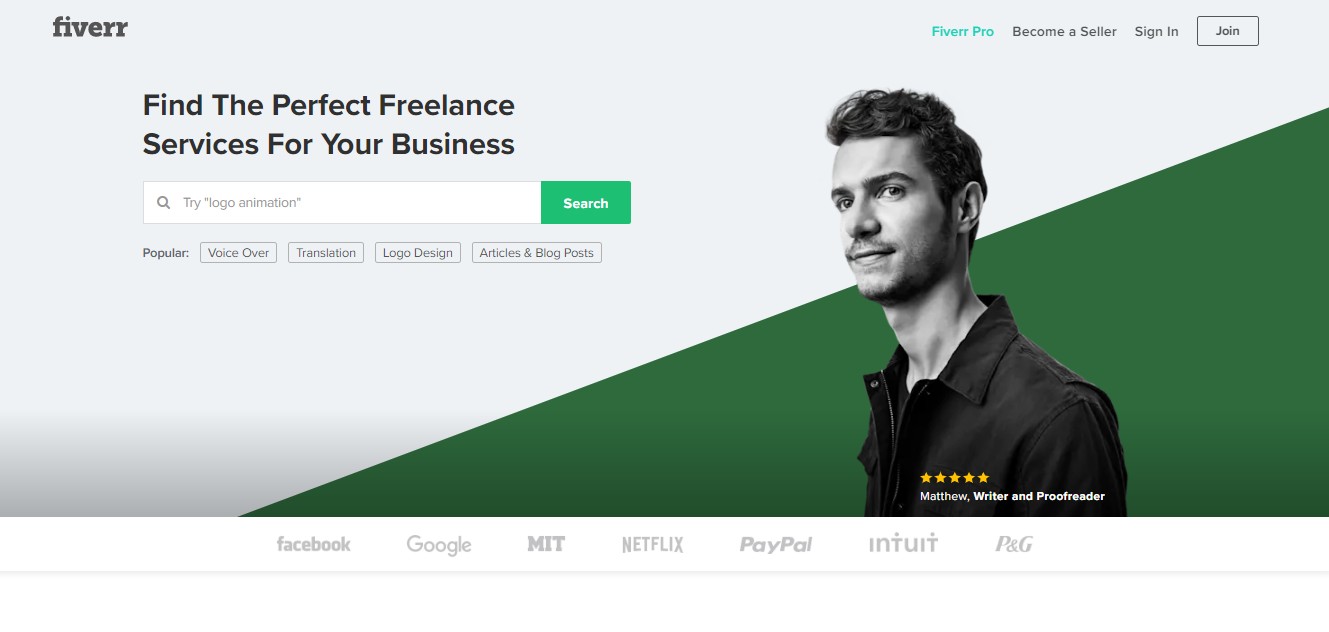 Fiverr is renowned for connecting freelance sellers with interested buyers. Simply create an account, search for content editors, and find the best fit for your budget. Use the "Pro Services" filter to view only those sellers that have been vetted by Fiverr.
UPWORK

Upwork is similar to Fiverr, but instead of you choosing from an ocean of sellers, Upwork makes the seller come to you. To get started, just create an account, post a project, and watch the bids roll in.
FREELANCER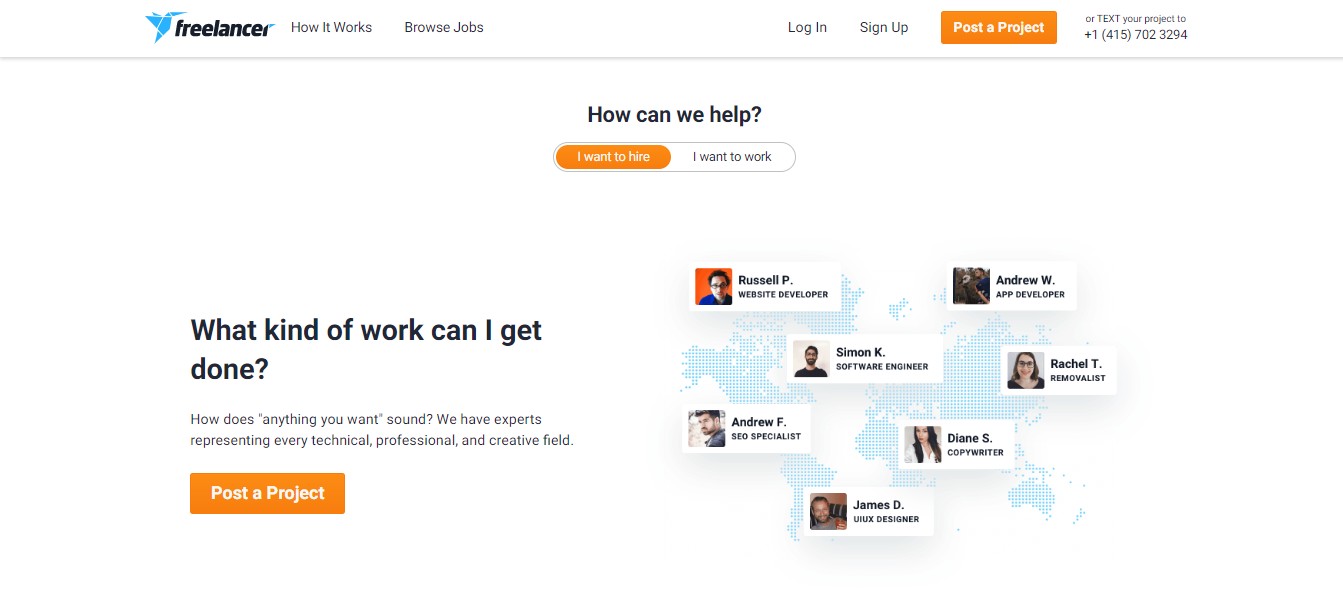 Freelancer is similar to both Fiverr and Upwork, but it's geared toward larger gigs that aren't traditionally considered "freelance" in nature. Like Upwork, Freelancer allows you to post a job and have interested editors come to you. In general, Freelancer is geared more toward writing gigs whereas Fiverr places heavy emphasis on designers or video editors.
Speed Up Your Editing Process & Create Better Content Today!
While content editing is only one aspect of the entire content creation process, it's an extremely important one.
Proper editing ensures that your content is easy to read, provides a benefit to the reader, and maintains a consistent brand voice and style that is in line with your company's values. Don't overlook the power of content editing!
We know that it can be difficult, confusing, and time-consuming for busy managers and execs to comb through content with a fine-tooth comb.
That's why we include editing in our process and many of our content marketing retainers. If you need help producing, editing, and/or promoting content, reach out to our team today to find out how Jawfish Digital can take your content marketing efforts to the next level!